I know I need to compost, now what?
 You're right, you do need to compost. We're beyond the point of "it's a green idea." More and more it's becoming the law in BC.
Metro Vancouver enacted a ban on disposal of food scraps as garbage in 2015, and by 2018 the Fraser Valley Regional District will follow suit.
So how do you get started? Whether you're a business, or strata-run building there are a few things to know to get yourself going with a composting program.
How much waste?
This is always one of the first questions we get. If you've never diverted your building's compost before, you may not know how much you actually produce.
We start by bringing you a bin and placing it wherever you need. Then you fill it up.
Do you need more bins? Or perhaps less frequent pick up? Let us know and we'll come when you need us.
What goes in?
More can go in the bin than you'd expect — 50% of household waste is compostable.
We provide a list on our bins telling you what you can and cannot toss in.
Food waste? Good.

Cooking grease? Good (in small amounts).

Diapers? Bad.

Newspapers? Great! These will help cut down smell too.
A lot of food waste that doesn't work in residential backyard composting works for us. We take it to a composting facility that mulches your waste into smaller, easier to break down particles, and turns up the heat.  
What about accommodations?
In one of our buildings some of the employees were unable to lift the bin lid, and toss in food waste at the same time. This was going to get in the way of successfully diverting their food waste.
So we got them step bins. Problem solved. We believe in making composting available to everyone.
Forget to put the bin out? No more chasing down the truck in your slippers, banana peels falling out behind you. Just give us a call, we'll come back. Closing the office over the holidays? Awesome. Let us know and we'll see you when you're back.
We make sure the process of diverting waste out of the garbage is as seamless for you and your employees or residents as possible.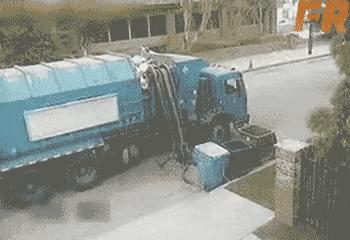 Invite the experts
Wondering how to encourage buy-in from residents or employees?
Well, beyond the good old-fashioned "because you have to" approach, we'll come by and give a presentation to a strata AGM or staff meeting and talk about how we mitigate problems. Particularly those surrounding smell, forgetfulness, and pickup.
At the end of the day we're here to make composting easier on you. You have to do it anyways, let us do it for you.
Please reload